The History of mostoffensivevideo.com
You know you've made an impact when you walk into a WalMart and see an official Charlie Brown T-Shirt for sale that says "It's all good in the hood."

For over ten years, mostoffensivevideo.com has been producing comedy parodies on the internet. What originally started as a VHS Video holiday card for a few friends in 2002 with "A Charlie Brown Kwanzaa" quickly turned into an overnight viral video phenomenon on the internet, with collective views in the hundreds of millions. The holiday parodies of mostoffensivevideo.com have shocked and entertained audiences worldwide, while influencing mainstream comedy in film and television.

Despite being banned and deleted from every major social and video hosting network, mostoffensivevideo.com continues to fight for their online existence, and for their place in Internet / viral video history thanks to their dedicated legion of fans who continue to share their videos and help promote their unique brand of comedy.

The parodies of mostoffensivevideo.com are in part, a tribute to some of the great comedians of yesterday; most notably Mr. Rudy Ray Moore aka Dolemite - the greatest rapper and tapper of all time. RIP Rudy Ray Moore 1927-2008.
Stories Behind the Parodies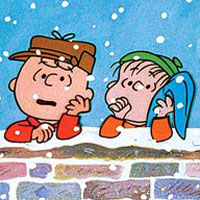 A Charlie Brown Kwanzaa
2002
The irony of "A Charlie Brown Kwanzaa" was that it was an accidental sociological experiment. It all began when we were going to a college that felt more like Eastside High in the movie "Lean On Me" than an actual college. Everyday during lunch, we would overhear the craziest conversations containing dialogue so extreme; no one would believe it was real. So we started writing everything down that we heard, from cafeteria rants, to even listening in on conversations near payphones. After six months and three notebooks full of dialog, we said to ourselves "What the hell are we going to do with this shit?" It dawned on us: why don't we overdub this deplorable dialog over the most wholesome visuals we could think of? Since it was around the time of the holidays, we came up with the idea to overdub "A Charlie Brown Christmas" simply as a joke, and to send to some friends on VHS as a video holiday card

Our master voiceover specialist did the entire thing in one take live, performing the all the voices directly onto the VHS tape as it played in real time. We did not have a computer, so we recorded it using an old VHS camcorder with an audio dub function. The original credits and titles were done on Mario Paint for Super Nintendo. After a week of writing and an hour of actual production, "A Charlie Brown Kwanzaa" was born.

We sent the VHS out to about thirty friends, as well as some television producers. Little did we know, it got bootlegged across the United States; with demands for more overdub specials. Despite launching the mostoffensivevideo.com website, we were looking for a way to upload the video online, but web streaming and internet speed was still an emerging science at the time. It wasn't until 2004-2005 when websites like YouTube and iFilm provided filmmakers with the ability to stream their movies online. With a heavy dose of Myspace social promotion in 2005, "A Charlie Brown Kwanzaa" got picked up and hosted by popular comedy sites like Ebaum's World, and it went beyond viral, racking up millions views.

Since its inception, "A Charlie Brown Kwanzaa" remains one of the all-time most watched comedy viral videos in internet history, racking up nearly 100 million collective views (without any paid placement or advertising), while influencing and revolutionizing a unique approach to comedy in the 21st Century.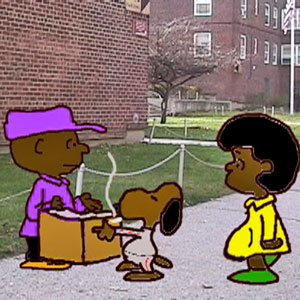 A Charlie Brown Kwanzaa Redux
2003
After "A Charlie Brown Kwanzaa" gained initial attention through VHS bootlegging, everyone kept suggesting to us that we should redo the entire parody with original visuals. So we invested in a new computer and attempted to reanimate the entire parody. Being big fans of the work of Ralph Bakshi, we thought it would be interesting to use actual footage of the hood as a backdrop. The end result is another experiment entitled "A Charlie Brown Kwanzaa Redux". Although it was a novel idea for us to reanimate it, an integral part of the charm of these parodies is how the contrasting dialogue works with the visuals of the original. (Years later, this feeling was even reiterated to us by a Fox Animation Executive.)
It's Martin Luther King Day Charlie Brown!
2003
With this new demand for us to make more parodies, we went back to our notebooks and wrote three episodes back-to-back: "It's Martin Luther King Day Charlie Brown", "Suck My Big, Black Ass Charlie Brown", and "It's Mothafuckin' Ramadan Charlie Brown". We found it strange that no one had ever made a cartoon that celebrated Martin Luther King so we thought it would make a great topic for our next parody. This was also the first overdub with the new computer, and our first attempt at manipulating the original animation to make it look like the characters are doing something terrible (referring to a reanimated Marcy pleasuring CB towards the end of the parody.) This episode also introduces the world to our twisted interpretation of Peppermint Patty, with a voice modeled on an angrier, more aggressive version of one of our comedy heroes Redd Foxx.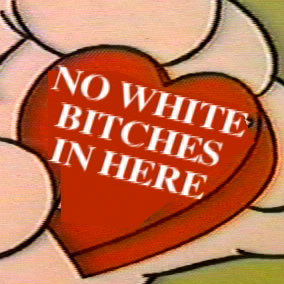 Suck My Big, Black Ass Charlie Brown!
2003
Although "It's Mothafuckin' Ramadan Charlie Brown" was also written in 2003, we felt it would be too controversial to produce so we shelved it. Instead, we produced "Suck My Big, Black Ass Charlie Brown". It was supposed to be the final installment of the mostoffensivevideo.com parodies. We had used up the last of our notes from our "college research" and felt that it was time to move on and try creating more "commercially acceptable" film projects.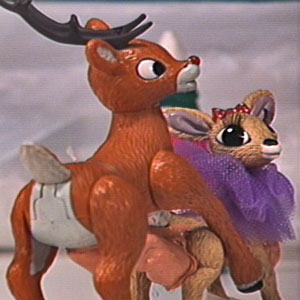 Rudolph The Five-Legged Reindeer
2004
The day after Christmas 2003 (ironically the first day of Kwanzaa), a friend tipped us off that Toys R Us was selling Peanuts action figures at clearance prices and suggested we should buy them and do a stop-motion parody. Instead of seeing Peanuts figures, we found the entire Rudolph the Red Nosed Reindeer figure collection! We couldn't believe that a company had actually produced Rudolph figures that were poseable! After a post-holiday sting on the credit card, we had purchased almost every figure they produced and immediately got to work writing "Rudolph The Five-Legged Reindeer".

The script was written in about two months. We spent more time figuring out how we were going to technically film this. One of the MOV team had an ancient VHS camcorder with a good CCD lens. After a couple test shots, we noticed that it looked very close to the original, despite not being actual film. Since we were capturing frames with a $10 video program, we needed to mathematically figure out how to simulate the same frame rate as the original film production. Our mathematical formula involving frame doubling worked, and the end result looked very close to the original. We also needed to figure out how to attach and animate Rudolph's "fifth leg" (amongst other things) and found that Silly Putty not only adhered well to the plastic figures, but it animated really well. As it heated under the lights, it would start to sag naturally. When playing back the frames, it produced a "breathing" effect, adding some life to the plastic figures.

Production of Rudolph was December 1st-24th, everyday for 12-18 hours per day. On the night of December 24th, all of us at MOV grabbed as many copies that we could make on DVD, and hand delivered them to friends' houses throughout the night. On Christmas Morning 2004, a substantial number of unsuspecting individuals woke up to a DVD copy of Rudolph The Five-Legged Reindeer frantically stuffed into their post box.

Immediately following the holiday, MOV went on an aggressive promotion campaign, sending DVDs of "Rudolph The Five-Legged Reindeer" and "A Charlie Brown Kwanzaa" to every comedy television / radio / film production company they could think of. Despite receiving some rejection letters and fan mail, nothing ever came of it.

Since its release on the internet, "Rudolph The Five Legged Reindeer" has shocked and bewildered audiences worldwide, racking up millions of collective views, and becoming a cult holiday viewing tradition for maniacs and lunatics worldwide.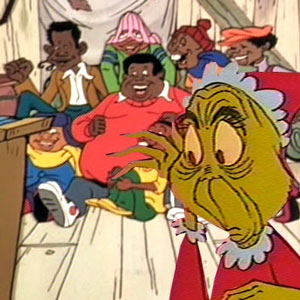 How The Grinch Stole Kwanzaa
2005
"How The Grinch Stole Kwanzaa" was frantically thrown together. Towards the end of November 2005, "A Charlie Brown Kwanzaa" went viral on the internet thanks to promotion from sites like Ebaum's World and social exposure on Myspace. Mostoffensivevideo.com was beleaguered with a traffic surge that it couldn't handle, and there was a sudden, immediate demand for more MOV content. So we scrambled together on notes we had made for a Grinch parody that incorporated Fat Albert characters. Fat Albert was one of our favourite cartoons and thought it would be funny to give them dialogue that was along the lines of our CB overdubs. We also had the pressure of topping what we did with Rudolph, so we went the route of including graphic content.

From a production standpoint, "How The Grinch Stole Kwanzaa" was a very ambitious animation undertaking for a marathon four days of production. Similar to our hero Ralph Bakshi, we rotoscoped vintage porn footage to look animated, while compositing animated character heads on the bodies. (This also saved time not having to redraw everything). We also figured out how to composite animated Fat Albert footage into The Grinch without having to actually reanimate it (with the exception of some keyframing). To match the audio of the original Fat Albert voices, we recorded all the voices onto VHS tape before importing it into the computer. We felt this was particularly the only way to get lil' Russell's voice correct; recording it digitally didn't give the voice the production character it needed to sound authentic.

The end result was a short with a lot of highs and lows. Since its release, we've struggled with keeping "How The Grinch Stole Kwanzaa" online. It's repeatedly been deleted from every major video hosting provider because of the graphic content. Strangely enough, its jokes and influence have made its way to mainstream comedy programming. In 2006, Adult Swim's "Robot Chicken" produced an episode called "Screw Youssical The Musical" which uses the premise and jokes from our short. An episode of "Drawn Together" entitled "Toot Goes To Bollywood" featured a Fat Albert parody where one of the "Phat Allen" gang uses the "bowling ball" joke that our version of Fat Albert used.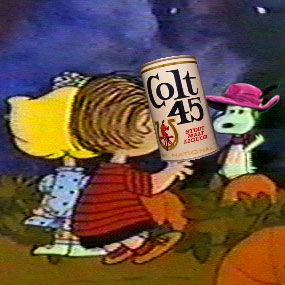 It's The Great Dolemite Charlie Brown!
2006
We decided we wanted to do a CB parody celebrating our biggest comedy influence: Mr. Rudy Ray Moore. For those that still do not know, Rudy Ray Moore was one of the first modern day raunchy comedians who pioneered everything from explicit comedy to rap music. He also made some incredible films in the 1970's like "Dolemite" (mandatory watching for anyone reading this). We were also puzzled and disappointed when Spike Lee made a movie called "The Original Kings of Comedy" and didn't include original kings like Rudy Ray Moore in it. We felt our popularity surge at the time could help get the word out about Rudy Ray Moore, and help him gain a new generation of fans.

From a production standpoint, "It's The Great Dolemite Charlie Brown" was another experiment in compositing; keyframing Halloween masks over the original characters. (There's also that brief reanimated moment where two characters are caught "in the act" in the pumpkin patch.) We also smashed a pumpkin in front of a blue screen and composited it over the beginning title credit screen.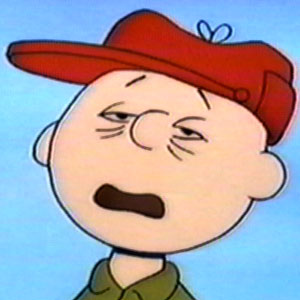 It's Mothafuckin' Ramadan Charlie Brown!
2006
As online video distribution was becoming more prevalent, we were able to track various video statistics and marketing information through YouTube. We noticed that we had a relatively large fan base in Iraq and the Middle East. We had also received some fan mail from military, so we figured it had to be military that was making our videos so popular in that region of the world. So we wanted to make a video that they might appreciate, and as a thank you for their service, we dusted off the 2003 script and went forward with producing "It's Mothafuckin' Ramadan Charlie Brown".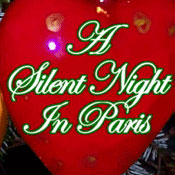 A Silent Night In Paris
2006
In 2006, we began production on the prequel to "Rudolph" entitled "Fanta Claus Is Comin'..." We were ambitious in our assumption that we could finish Fanta Claus in the same time frame as Rudolph. We were totally wrong.

"A Silent Night In Paris" was originally a commissioned piece for a freelance job, but the company that wanted it ultimately rejected it. So to fill the void of not having "Fanta Claus" ready for the holidays, we put out "A Silent Night In Paris", which was also repeatedly deleted from video hosting websites.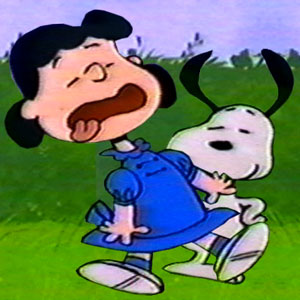 Beware of the Easter Nigga Charlie Brown!
2007
We wrote three different scripts from scratch before we settled on the script for "Beware of the Easter Nigga Charlie Brown". From a production standpoint, we continued our experiments with manipulating the original visuals; from Marcy defecating in the boiling pot of water, to the infamous final scene. The pacing of this is different from the other parodies as well. The original parodies were edited with lots of space in between the dialogue, keeping with the pace of the original Peanuts cartoons. We edited this one with short attention spans and the internet in mind, and it works more fluidly. (Our previous parodies have since been tweaked to conform with faster pacing.)

The end result became one of our most popular parodies of all time, racking up nearly 60 million collective views since its release.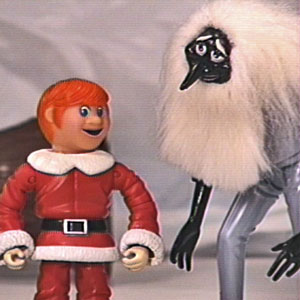 Fanta Claus is Comin'...
2008
After three long years of production and rewrites, we finally released the prequel to "Rudolph" entitled "Fanta Claus Is Comin'..." in December 2008. Producing "Fanta Claus" was a challenge. At the time, we were annoyed that elements of Hollywood kept lifting our material for their own programs. So we attempted to create something so terrible and vile, that no one would dare steal from it because no one would ever dare broadcast it on commercial television. We were fascinated with the concept of "how far can one go over the line" with regards to the increasing vulgarity in content that was being pushed on Comedy Central, Adult Swim, the internet and even in cinema.

So we made "Fanta Claus Is Comin'..." into the most vile, disgusting, downright offensive thing we could possibly make it into without doing anything illegal to make a point. It's so repulsive to us; we haven't even watched it since producing it. It has since been rightfully deleted and repeatedly banned from every video hosting site since its release on the internet.

And sure enough, the scene of the soldiers defecating on Fanta Claus was lifted and recreated in "Tim and Eric's Billion Dollar Movie", amongst other similar reported sightings.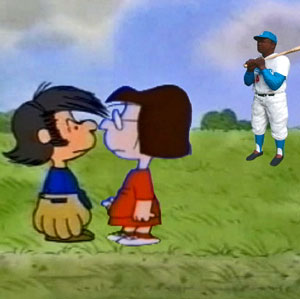 Jackie Robinson Is The First Black Baseball Player Charlie Brown!
2010
After "Fanta Claus", we felt there was a need to redeem ourselves. We went back to square one and produced "Jackie Robinson Is The First Black Baseball Player Charlie Brown". From a production standpoint, this parody creatively blended footage from various Peanuts shorts to create a "new" episode with a baseball theme. Lots of compositing was employed, particularly animating the head of "Espinosa" into scenes involving baseball action and the final scene of Marcy harassing an inmate in prison. The end result was popular with MOV fans that were happy to finally see a new release. By popular demand, we re-released this episode in 2014 with English subtitles for the Espinosa scenes containing Spanish dialogue.